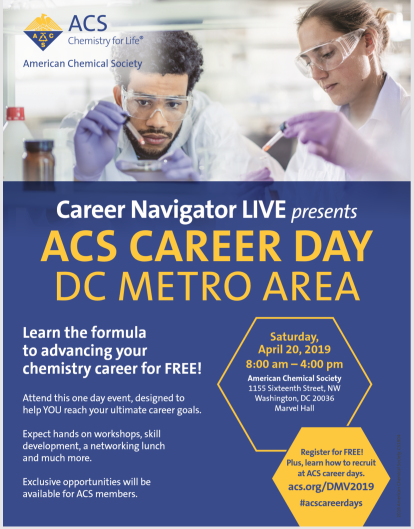 8 AM – 4 PM, American Chemical Society, 1155 Sixteenth Street NW, Washington DC, 20036
ACS and CSW are teaming up to host a career day April 20th at ACS Headquarters. This full day event will be focused on chemists looking to transition in their careers, but is open to all enthusiatic chemists looking to build new skills.
If you are interested in attending this free event, please register using the link below:
https://chemistryjobs.acs.org/careerfair/24900/career-navigator-live-presents-acs-career-day-dmv/
We're also going to have local employers there to showcase opportunities for chemists in the DMV.
Career Day Agenda:
There's more on the way to help you navigate toward success.
8:30 am – 9:00 am Registration & Welcome Breakfast
9:00 am – 12:00 pm Talks and Interactive Workshops
Finding Your Career Path

Making a Career Pivot

Mastering Social Media & the Job Search

Leveraging ACS Resources to Grow Your Career
12:00 pm – 1:00 pm Networking Lunch & Meet the Speakers
1:00 pm – 4:00 pm **Exclusive Employer Showcase
ACS Career Resources Showcase
ACS Career Consultant Appointments Onsite:
Individualized Career Advise
Resume Reviews and Preparation Tips
Job Search Strategies
Salary Negotiation Techniques
** If your organization isn't already participating in DMV career day, but would like to, we'd love to have you! Please contact Sara Orski (sara.orski@gmail.com) or Tommie Parker (T_Parker2@acs.org) to get involved.
Note: This event will be held in lieu of the April CSW dinner meeting.