The Fred Kavli Science at the Frontiers Lecture Presents "Science & Religion" by Dr. Alan Lightman – Physicist, MIT Professor, and Author
Monday, May 4, 2015
6-7PM
(Doors: 5:30PM)
National Geographic Society Grosvenor Auditorium
(Enter on M St, between 16th and 17th Sts, NW)
Book signing to follow at 7:00PM, courtesy of Politics & Prose – Copies of Einstein's Dreams and The Accidental Universe will be available for purchase (credit card only).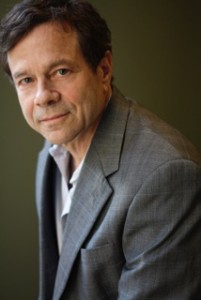 Travel with Alan Lightman on a journey through time as he surveys selected high points in the history of science that bear upon philosophical, theological, and ethical issues. The general trend of science over the centuries has been to enlarge the domain of what we call the "physical universe" and to develop a purely material and rational explanation for the phenomena of the physical universe. Dr. Lightman then turns to religion and discusses the kinds of questions that intersect both religion and science, versus the kinds of questions that lie firmly in one domain or the other. He discusses the form of religious beliefs that is compatible with science, and the fact that science and religion have different kinds of knowledge and different methods of obtaining that knowledge. Finally, Dr. Lightman discusses his view that a "spiritual universe" exists in addition to the physical universe, although the former does not necessarily include what we call God. This stimulating and provocative talk is based on essays in Dr. Lightman's recent book The Accidental Universe: The World You Thought You Knew (Pantheon Books).
The physicist as novelist: Alan Lightman at TEDxWellesleyCollege
Dr. Lightman is a world famous theoretical physicist who did seminal research in the astrophysics of black holes, radiation processes, and relativistic plasmas prior to becoming an award winning writer. Among his best known books are Einstein's Dreams; The Diagnosis, a finalist for the 2000 National Book Award; and Origins, which won the 1990 Association of American Publishers' award for the best book on science of the year. In 2013, his book The Accidental Universe was published to widespread acclaim, and his most recent  book, released this year, Screening Room, has received outstanding reviews.  More information about Dr. Lightman may be found at his website.
In the Absence of Experimentation, Prof. Alan Lightman.
This free public lecture is brought to you by the Council of Scientific Society Presidents and the Kavli Foundation.
---
Photo credits: