The CSW Monthly Dinner Meeting on February 8th featured presentation of the College Chemistry Achievement Awards, which awards are presented annually by the Chemical Society of Washington to outstanding seniors majoring in chemistry and biochemistry from each of the area colleges and universities.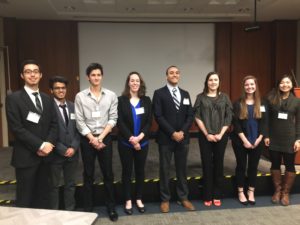 Photo credit: Allison Aldridge
Honorees (Left to right):  Christian Acosta, Ashish Bhattarai, Michael Corrado,
Jacqueline Dyer, Deiaa Harraz, Linnea Lundh, Eileen McAlonan, Florencia Son
Christian Acosta
George Mason UniversityRebecca Jones, Ph.D.
The recipient of the CSW College Chemistry Achievement Award from George Mason University this year is Christian Acosta. This candidate for the B.S. in Chemistry never met a course he didn't love. I join his adviser Dr. Jones and the entire faculty of the department in congratulating him. Well done Christian!
Ashish Bhattarai
American UniversityDr. Alexander Zestos
Ashish has been instrumental in helping Dr. Zestos set up his research laboratory to develop carbon based microelectrodes to detect neurotransmitters using fast scan cyclic voltammetry. Ashish has a strong work ethic and helps train other research students in Dr. Zestos' laboratory in addition to conducting research in Dr. Douglas Fox's laboratory. Ashish works well with his fellow students and has proven to be a leader amongst his peers in the Experimental Biological Chemistry II laboratory. He has an excellent performance in other chemistry courses as well.
Michael Corrado
American UniversityDr. Monika Konaklieva
Michael Corrado (BS/Chemistry major) has an impressive overall undergraduate record in his courses at American University (AU). Since the summer of 2016, he has been working with Dr. Konaklieva on the design and synthesis of novel modulators of enzymes associated with lipid metabolism.  Mr. Corrado's commitment to this project reveals his excitement about science.  His hard work has already yielded fruit: he received the Goldwater nomination from AU in 2017.  Some of his other achievements include: National Dean's List in 2015, 2016 and 2017; Recipient of the Schwartz Undergraduate Summer Research award in 2016; NASA Award for Undergraduate Research in 2017; Recipient of an ACS Division of Organic Chemistry Undergraduate Award in 2018. Mr. Corrado will be attending graduate school to master in organic synthesis and is planning to pursue a MD/Ph.D. afterwards.
Sydney Cunniff
St. Mary's College of MarylandDr. Geoff Bowers
Sydney S. Cunniff is a double major in chemistry and environmental studies and will be pursuing a PhD in environmental engineering starting in fall 2018.  She graduated a semester early (December of 2017) and will be spending the spring traveling the world and helping wrap up several research papers stemming from her undergraduate work.  Sydney's research accomplishments are truly exceptional, and she has also served in leadership capacities for campus clubs and actively participated in departmental outreach activities, helping to forge positive bonds with our campus and local community. She is an outstanding student, scholar, and a person that is most deserving of this recognition.

During her time at St. Mary's, Sydney earned the Outstanding Achievement in Principles of Biology award, a Summer Undergraduate Laboratory Internship award at Pacific Northwest National Laboratory sponsored by the United States Department of Energy (her second summer research position), and the inaugural American Chemical Society Physical Chemistry award at St. Mary's this past May. Sydney contributed to three research papers; two that were submitted in the December/January timeframe to flagship ACS journals and a third that we will finish during her semester abroad.  Sydney is the first author of one of these papers in every sense, having written most of the text, prepared most of the samples, and performed most of the analysis herself.  She presented part of this work at a regional undergraduate research forum in October and won second prize in the chemical sciences category amongst more than 250 posters.

It also must be stated that Sydney accomplished all of this while maintaining a GPA near the top of her class and with a positive attitude, grace, and humility that is highly admirable.

Jacqueline Dyer
The George Washington UniversityProfessor Akos Vertes
Jacqueline Dyer is currently a senior at the George Washington University majoring in chemistry and minoring in math and physics. During her undergraduate career, Jacqueline's academic accomplishments have included a Presidential Scholarship, acceptance into the University Honors Program, two Outstanding Academic Achievement awards, and acceptance to the prestigious Enosinian Scholars Program.

Since her sophomore year, Jacqueline has had the opportunity to conduct analytical chemistry research with the Vertes Research Group. Her projects have included derivatizing nanophotonic structures for ionization sources, and analyzing the chemical composition of human tissue in chronic wounds. During her time with the Vertes Group, Jacqueline has earned both the esteemed Luther Rice Undergraduate Research Fellowship and the Madeleine Reines Jacobs Summer Research Scholarship.

In the summer of 2017, Jacqueline was also accepted to the competitive Security Printing and Anti-Counterfeiting Technology REU, where she conducted physical chemistry research with anti-counterfeiting applications with Dr. Jiang at the University of South Dakota. In total, Jacqueline has had the opportunity to present at four conferences, including the national meeting of the American Society for Mass Spectrometry in 2017.

Outside of the lab, Jacqueline is an active member of Alpha Chi Sigma, the professional chemistry fraternity, and tutors chemistry. After graduation, Jacqueline will continue her chemistry career and serve her country as a Nuclear Propulsion Officer in the United States Navy.

Deiaa Harraz
University of Maryland, College ParkProf. Jeffery Davis
Deiaa is a senior at the University of Maryland, with a double major in Chemistry and Chemical Engineering. Deiaa is an outstanding and hard-working student in the classroom and the research laboratory, where he is advised by Prof. Jeffery Davis. Deiaa has earned a number of awards, including the "Russell E. Marker Outstanding Freshman Award". He is also a Beckman Scholar, which is a very competitive fellowship here at the University of Maryland. Deiaa's research involves understanding the structure and function of supramolecular assemblies. He has shown that two fundamental biomolecules, 5'-GMP and heme, can self-assemble to form a peroxidase catalyst. This work, which has been submitted for publication, may have relevance to pre-biotic chemistry. Deiaa plans to attend graduate school in chemistry after graduating from the University of Maryland.
Brendan Kerwin
Georgetown UniversityNagarjuna Gavvalapalli
It is my pleasure to nominate Brendan Kerwin, a senior and chemistry major at GU, for this award. Brendan is carrying out his chemistry honors thesis in my research group and is working on synthesis of novel structure directing agents to control the shapes of organic pi-conjugated molecular nanocrystals. Brendan showed perseverance, enthusiasm, and self-motivation during the time he spent in my research group. For example, we had to change the synthetic route a couple of times after hitting a dead-end. However, Brendan kept his enthusiasm and motivation and followed the modified synthetic route to successfully synthesize the target molecules. Brendan is really motivated to do a PhD in chemistry. Toward this he took the relevant courses in chemistry, including the lab courses. His GPA is also exceptional (3.956). Apart from regular academics, he played a very active role in outreach activities in the DC area. He actively volunteered for many tutoring activities; for example, he was involved in the Georgetown Academic Peer Advisor Program, Georgetown University Math & Science Hands-on Enrichment, Freelance Tutoring, and Georgetown DC Reads Program.
Linnea Lundh
St. Mary's College of MarylandDr. Shanen M. Sherrer
Linnea Lundh is a recipient of the Chemical Society of Washington College Chemistry Achievement Award from St. Mary's College of Maryland. She is a phenomenal senior Biochemistry major with a minor in Mathematics. Linnea seeks and demonstrates excellence in the classroom and through research in numerous ways. Besides maintaining a competitively high GPA, she is a teaching assistant for Biochemistry lab courses and is currently working on a senior research project in Dr. Shanen M. Sherrer's lab. As a teaching assistant, Linnea goes above and beyond to help students understand key biochemistry concepts and apply them during lab experiments. Before joining Dr. Sherrer's research group, Linnea conducted research at the United States Army Medical Research Institute of Infectious Diseases (USAMRIID). Within the Sherrer research group, this same scientific drive shines. Linnea recently wrote a research proposal for her senior project and it won financial support from the Cove Point Natural Heritage Trust's Ruth Mathes Scholarship Program. When she is not in class or doing research, Linnea enjoys a number of extracurricular activities such as weight lifting, professional dancing and cooking. After completing her college degree, Linnea plans to pursue a career in medicine.
Eileen M. McAlonan
The Catholic University of AmericaDr. Gregory Miller
Eileen McAlonan will graduate with a BS in Biochemistry and a minor in Psychology from the Catholic University of America in May 2018. Eileen has excelled in her coursework earning a 3.93 GPA.  Not only has she been the recipient of several academic honors at CUA, but she is a member of CUA's President's Society and she is the captain of CUA's Women's Track and Field Team.  Beginning as a sophomore until the present, she has served as a Resident Assistant in the residence halls at CUA.  In her junior and senior years, she worked for the chemistry department as a TA for General Chemistry and for Nursing Chemistry and as a laboratory prep assistant for undergraduate laboratories. Recently, she has worked in the biochemistry lab of Dr. Miller in the chemistry department of CUA, studying the impact of oncogenic mutations on the interaction between the protein p53 and the enzyme inositol hexakisphosphate kinase 2 (IP6K2).

In Fall 2018, she will begin a program in Physical Therapy at the University of Delaware.  To that end, she volunteered this past summer at a PT clinic and also with PT's in a summer school setting focusing on children with autism, down syndrome, and cerebral palsy.

Florencia Son
Georgetown UniversityYuYe J. Tong
Florencia is an outstanding student with a cumulative GPA of her major courses higher than 3.8/4.00. She is currently a chemistry major and math minor in her senior year. Over the summer of 2016, she was accepted into the NSF REU Program in chemistry at the Western Washington University and did the summer research there with Dr. David Rider on synthesizing polymeric nanomaterials used as ligands for semiconductor quantum dots. Her work there has led to the acceptance of a poster presentation entitled "Synthesis of Nanocrystal Polymer Ligands" by the Undergraduate Research Symposium under the auspice of the Division of Chemical Education of the American Chemical Society (ACS) at the 253rd ACS National Meeting in San Francisco, California April 2-6, 2017. Over the summer of 2017, she was again accepted into another NSF REU Program, this time at the New York University and working with Dr. Michael Ward on a project entitled "Fabrication and Biased Motion of Electrophoretic Swimmers", which she presented at the King Abdullah University of Science and Technology, Thuwal, Saudi Arabia in January 2018. Over the last two and a half years, Florencia has also been doing excellent undergraduate research in my lab, which accumulatively leads to her honor thesis focusing on synthesis and characterization of ligand-stabilized ultra-small silver nanoparticles. She plans to get a PhD in chemistry and has also been accepted by some top graduate schools in the nation that include UCLA, University of Washington, and Northwestern, just to name a few. Additionally, she has served and is serving in the leadership positions of the Georgetown Chemistry Club (president, secretary, social coordinator) and the Georgetown University Math and Science Hands-On Enrichment (co-director, discovery summit coordinator, site manager and tutor). She also led the effort to re-establish the Georgetown ACS Student Chapter. For these notable accomplishments, Florencia was nominated and awarded for the 2017-18 CSW-CCA Award.