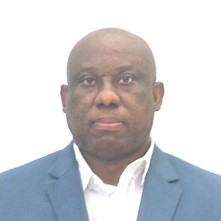 Chidi Duru, PhD., NBCT
National Board Certified Chemistry/Science Teacher, Science Department Chair
Crossland High School (Prince George's County Public Schools)
"Leveraging the Chemistry Classroom for Impact"
Virtual CSW Meeting
December 14, 2022 – 6:00-7:00 ET
The Chemical Society of Washington would like to congratulate Dr. Chidi Duru on earning the prestigious Fulbright Teachers for Global Classrooms Program award from the U.S. Department of State and the Fulbright Foreign Scholarship Board. Dr. Duru will present at one of the CSW dinner meetings for the month of December. This is a great opportunity to invite your local High School Science Teachers to this virtual presentation.
This event has concluded. A recording is now available – view the recording.
Chidi Duru, PhD., NBCT
National Board Certified Chemistry/Science Teacher, Science Department Chair
Crossland High School (Prince George's County Public Schools)
"Leveraging the Chemistry Classroom for Impact"
Speaker Bio
Dr. Chidi Duru is a National Board Certified Chemistry/Science Teacher and currently teaches Chemistry, Biogeochemical Systems, and AP Environmental Science. He heads the Science Department at Crossland High School in Maryland, where he initiated/leads a climate action program that has secured a multilateral partnership that installed a Teaching/Treating Storm Water Bioremediation facility in the school, obtained a $35,000 grant for an outdoor classroom and inspired a cultural shift in environmental education and action that earned the school spot as a Maryland Green School.
Dr. Duru, a lifelong learner, and avid collaborator with other professionals and STEM-related institutions, continually seeks innovative ways of engaging/empowering students, building the capacity of fellow educators, and enhancing his community. In the past few years he was at the Exploratorium Teacher Institute in San Francisco, NASA Wallops (Virginia) Rocket Academy for Teachers (WRATS), On the Farm STEM PD, and Project Atmosphere Teachers Institute, and has taken graduate courses at Harvard and other universities, acquiring state of the art pedagogical/leadership skills in the process.
Bringing these experiences back to his classroom has changed how his students respond to STEM. From very few students when he joined the school, many more of his students now get into STEM fields/careers. Most significantly, this is breaking the 'school-to-prison pipeline for these minority/underrepresented/underserved populations.
Dr. Duru mentors teachers seeking National Board certification, and facilitates professional development sessions in his school, school district, and across the United States. He is a National Geographic Certified Educator, NEA Foundations Global Leaning Fellow, facilitator and abstract reviewer at National Science Teaching Association (NSTA) conferences, facilitator at Science Research Conference, and member of the American Chemical Society (ACS), American Association of Chemistry Teachers (AACT) and American Meteorological Society (AMS).
Fulbright TGC provides a unique opportunity for Chidi Duru to interact/collaborate with other professionals from across the United States and abroad. Interacting with professionals of such diversity in skill sets, capacities, and perspectives will enable him to continually reflect on his practice and to further refine his pedagogy. Thus, enhancing his ability to continue to provide his students with the knowledge and competencies needed to thrive in our rapidly evolving global community. Transferring the knowledge, he gained from Fulbright TGC to his community would enable many more students and community members to appreciate the preponderance of perspectives, reexamine their roles as global citizens, and potentially excel in our ever-changing world.
Abstract
Chemistry is at the heart of all sciences. The chemistry classroom could be used for cross-disciplinary learning, action, and impact. With the premise that learning/knowledge with no action is a futile exercise. Over the years the presenter has led students to develop the mindset that young people can take action right now. Young people understanding that they are not only the future, that they are also our present could potentially 'catalyze'' them into immediate action. Their energy, skill, enthusiasm, and scientific knowledge could be leveraged for positive action. This presentation discusses ways to harness the 'reaction' between chemistry, the classroom, and the youth to 'produce' impactful 'glocal' action.