By Tao Ye
I have lived in the U.S. for only one year. Journeying to Denver for the ACS National Meeting was my first trip to another big city – and my first conference – which made it special and exciting.
At first, the two-hour jet-lag from DC to Denver and early rising to catch the first talk in the morning made me feel a little tired. However, with the taxi approaching to the downtown on the highway, I could see the beautiful snow-covered mountain range in front of us, and all the tiredness suddenly went away. I was overwhelmed and excited by the hundreds of high-rise buildings, which made the city full of vigor.
Stepping out from the taxi, the big blue bear, standing in front of the Convention Center and peeking into the windows, immediately caught my eye. There seemed to be a smell, an odor of science and chemistry as I entered the conference hall facing an infinite of young graduate students, researchers, and scientists. Their presence created a remarkable degree of excitement and a dense academic environment in the Convention Center.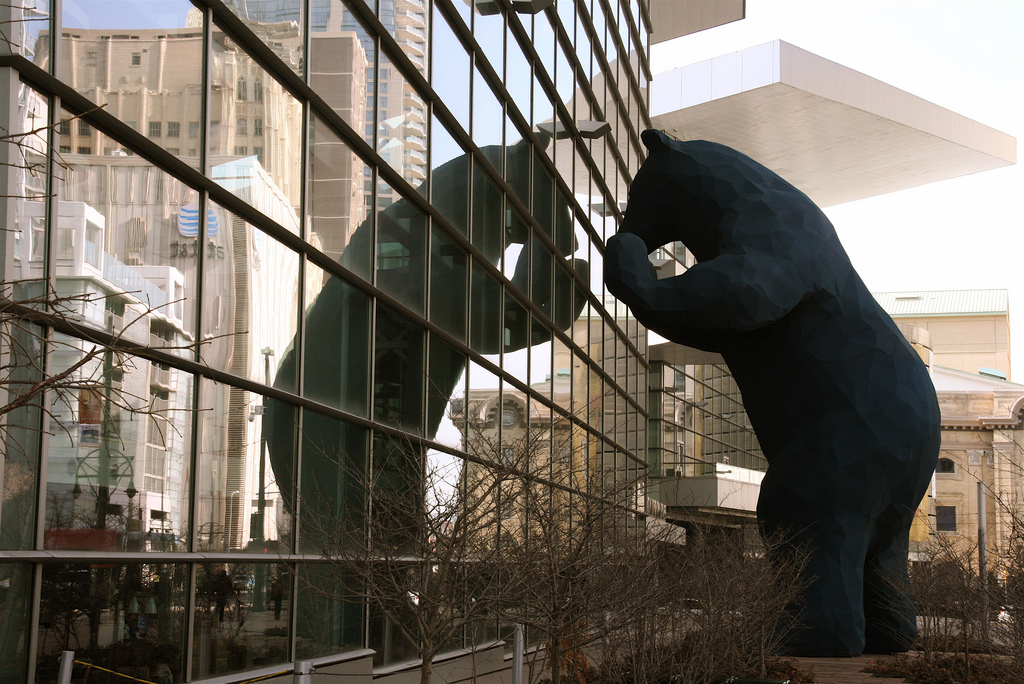 I was excited but nervous during the first few days because I was going to give my oral presentation on the fourth day of the conference. This was my first time to give an oral presentation in a conference.
English is not my first langue. Although I practiced a lot, the presentation still did not go as well as I expected. However, I cannot forget the moment when I was standing in front of such a large number of people, and one famous professor siting in the front row gave me a look with curiosity and hopefulness, which really eased my nervousness and encouraged me to deliver my talk.
My advisor, Dr. Danmeng Shuai, highly praised my presentation and told me that there were more than seven faculty members listening to my talk and some of them were even big shots in our research area. I never thought that my work would be so important that some famous professors would be interested in my talk. Their supports further strengthened my resolve to work harder and do better in the research I am conducting.
I was so lucky that I met several editors of Environmental Science and Technology, which is the best journal in environmental engineering, and other famous professors in the ENVR reception. Before this party, I read a lot of their papers and had never thought about meeting them in person. This conference totally made my dream come true. Moreover, I was also able to meet other scientists and graduate students in my own field, communicate with them and receive valuable feedback on my research.
This was my first time to give an oral presentation in such an influential academic conference. I would like to thank the Chemical Society of Washington for choosing me as the recipient of CSW Student Travel Award and also my advisor, Dr. Danmeng Shuai, for his financial and moral support of my work and his generous help in my study.
---
The Chemical Society of Washington (CSW) offers a travel award to defray travel and/or registration costs to a National ACS meeting. The award is open to current graduate students in the Jurisdiction of the CSW. Awardees are asked to share with CSW members something from their experience that impacted their perspective as a chemist.
For more information on the Student Travel Award, please look here. Contact [email protected] with additional questions.
---
Photo credit: