Salutes to Excellence is a recognition award that gives ACS members an opportunity to underscore outstanding accomplishments, achievements or service for individuals who have made a positive impact on everyday life. Since the program began in 2000, more than 500 honorees have received Salutes to Excellence awards.
CSW's past president Kate Hughes was recently awarded a Salute to Excellence award for her service to CSW and ACS. Please join us in congratulating her for her work!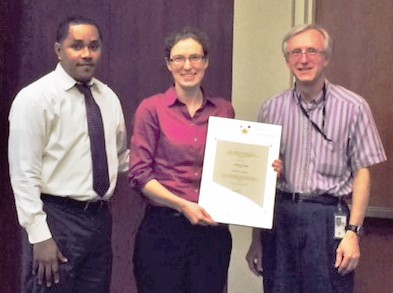 Honorees may be a practitioner of chemistry, product of chemistry or a place of importance in chemistry within their communities.
The ACS member nominator will organize an award ceremony or event to present the commemorative plaque(s) to the honoree(s). All plaques are furnished by the Department of Volunteer Support at ACS.
The plaque is designed to frame your printed citation, which should identify the achievement and explain its significance. You may use one of the templates provided, editing it as necessary, or simply create one of your own.
For more information on the Salutes to Excellence award, look here.