By Leah Humenuck, 2015 Graduate of Sweet Briar College
"You're one of the lucky ones" was a phrase said to me one time too often during the closing announcement of Sweet Briar College. Being a member of what could be the last class (class of 2015) of my alma mater, this phrase stung instead of being soothing.
Being a part of potentially the last class leaves far more worry and far less lucky. I remember an underclassman who tried to comfort me by saying I didn't have to worry about anything because I got to graduate. I wanted to turn to her and say "But at least you still have a school once you transfer." I didn't. Many people assumed a lot of things about the circumstances of seniors. On its face, it sounds easier. It wasn't.
When the email announcement first came, I was in denial. I remember being furious at first, thinking this had to be a mistake. My spirit rejected this atrocious message so much I strode out of my room to find someone else to confirm it. Red eyed, coming down the elevator, I found a friend who was a junior looking for that same confirmation. Tears were the only things I could comprehend in that moment. While we chatted, all I could think about was how I got to graduate and she wouldn't. And that was my first wave of survivor's guilt with many to follow.
While the social media sites were updating faster than ever, we at the school were in slow motion. Emails, Facebook messages, and Twitter feeds lit up with the chatter of what was happening. The in-person experience was more like those movies which show a ghost-like post-apocalyptic world with only a few remaining survivors walking around in daze.  Outside, campus was silent. But inside was a hushed mix of grieving, frustration, and whispers aimed at what happened, what we do next, and how can we fight this. I remember emailing one alumna who asked for a description of the atmosphere of campus a day after the announcement. I told her that the students body was a ship without an anchor.
Life in the coming weeks was full of emails and meetings with professors, alumnae, fellow students, and reporters. Some of them, and specifically President Jones, reminded us of how we were about to be part of something so special. It didn't feel special. It felt terrible.
I was already part of something special. I was already chemistry major, a member of many different clubs and organizations, held a variety of jobs, was collaborating with professors to bring the sciences and arts closer together, and above all I was a Sweet Briar woman.
Being a Sweet Briar woman is more than just attending some women's college in southern Virginia. Every single woman enrolled becomes the fulfillment of Indiana Fletcher William's dream, the founder of Sweet Briar College. Her daughter died before she could obtain higher education. Indiana, in a time when women's education wasn't popular, put forth her legacy to the education of future women through her college. This is something special. This was what we were a part of. To be told I was part of the last class to fulfill that dream, felt like I was helping end the dream.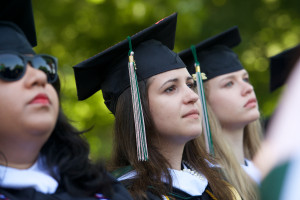 I had big post-graduation plans. These included starting a scholarship for future Sweet Briar chemistry majors, giving guest lectures, and supporting future Sweet Briar women. All of those were replaced with equally large post-graduation logistical questions. Who will be in charge of my transcripts? How do I get in touch with professors for recommendation letters a year from now? Does this closing mar my degree? How am I supposed to explain to potential employers that, just weeks after graduation, my college no longer exists?
The institution – which I carefully chose during my last year of high school to support me – is falling out from under my feet.  A college is a platform from which one builds into the job market, graduate schools, and other places. A closed college is just a sobering distraction from the potential job, degree, or dreams being reached for.
It's always hard to take a step and strive confidently, enthusiastically, into the future when you have to leave something so dear behind. But this was especially true, when it felt like, once my foot lifted off the rock of my education, there was a chance it could succumb to ruin. I continue to strive through the heartbreak of uncertainty, just as I continue to fight for the perpetuation of my alma mater. No matter the outcome of that fight, there is an eternal charge given to the class of 2015 by Mayor Tomlinson, the commencement speaker, "make the world regret we ever put Sweet Briar College in jeopardy."
Click here to read other articles in our Stories from Sweet Briar series.
---
Leah Humenuck graduated Sweet Briar College Magna Cum Laude, B.S. in Chemistry, and double minored in the History of Art and Studio Art. She's a member of Iota Sigma Pi and believes strongly in a Liberal Arts education. She also loves to remind people that science tells us how to recreate a T-Rex and the humanities tell us why that's a bad idea. Leah can be contacted via Twitter (@humenuck) or email.
Cover photo credit: Copyright Sweet Briar College. Photo by Meridith De Avila Khan.
---
If you are a student, faculty, staff member, or alumni of Sweet Briar and are interested in writing about your experience, we would love to hear your stories as well. Email us at [email protected].