By Michelle R. Bond, Ph.D., Children's Science Center Board member
Children are natural-born learners with insatiable curiosity. Who built my school? What are the ants doing with that leaf? How do you open this bag? When will the sun come up? Why does the magnifying glass make it bigger? These inquires are among those from a much longer list I answered for my 2.5 year old son this week. Even simple questions like these inspire children to learn about the world around them. Soaking up information at an amazing rate, young students are masters of discovery – they integrate information and unabashedly explore unknown concepts.
Exploration, discovery, and creation are key principles of scientific inquiry. Indeed, it is clear that navigating our ever-changing world will require not only a brave curiosity and critical thinking skills but also a literacy of science, technology, engineering, and math (STEM). Integrating STEM with the essential skills of reading and writing is requisite for students to ultimately be competitive in the United States' fastest growing employment sector (STEM jobs are projected to expand by 17% from 2010 to 2020). Beyond the need for a diverse STEM talent pool to continue our upward trajectory of ingenuity, there is a fundamental need to ensure that we have an informed public ready to make educated decisions about STEM topics. Precisely, "responsible citizenship today requires a foundation of solid STEM education; be it engaging in health care, understanding environmental stewardship, understanding current geopolitics, or explaining global opportunities and crises."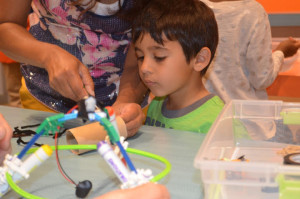 The ability to integrate disparate ideas and synthesize new ones is key for the success of the next generation of STEM trailblazers. While high quality STEM educators in formal education environments are at the frontlines of encouraging these efforts, they are bolstered by programming in informal learning environments including inquiry-based learning at centers within communities. Students participating in after-school STEM programs have immediate and long-term gains on a number of STEM-related dimensions and, importantly, students in these programs can be inspired in STEM without the fear of academic failure. Furthermore, informal education experiences, such as science museums and centers, are linked to improved STEM literacy and an increased awareness of and interest in STEM-related topics, particularly for girls and under-represented minorities.
Strategic efforts in our region to add informal STEM programs to our K-12 STEM education ecosystem have recently become further enriched. With innovative programming that dovetails with existing curricula and programs, the Children's Science Center was, until June 20, 2015, a museum that even without walls served over 24,000 visitors overall in the 2014-2015 school year. These included community events and elementary school visits, of which 60% percent were Title I schools. At its new home, the Children's Science Center Lab at Fair Oaks Mall (11948L Fair Oaks Mall, Fairfax, Va. 22033) shows tremendous promise. The Lab is Northern Virginia's first interactive museum where children, families, and school groups can explore STEM concepts through fun, engaging hands-on exhibits, activities, and programs.
As an asset to the region, the Children's Science Center is committed to engaging and inspiring youth through hands-on inquiry based learning, mentoring opportunities, and a for-kids-by-kids design approach. Helping youth to have a "huh, that's funny" moment after which they explore a concept rather than accepting an unknown is among the tenants upon which the Center is built. Instilling a love of learning STEM in all children by providing unique opportunities to explore, create, and be inspired will help today's students to be tomorrow's innovators.
Recently, just over 20 student volunteers ages 13-15 (and one 8 year old!) compiled interesting facts, videos, podcasts, and websites about the periodic table and all the chemical elements. Every volunteer researched five elements and wrote short, creative statements describing the most interesting facts they discovered which were ultimately published on the organization's Facebook and Twitter pages using the hashtag #ChildSciElements. Tied to the Elements of Success fund development campaign, students in this educational endeavor partnered with a Ph.D. chemist to ensure every facet of the organization includes an educational component.
---
Cover photo credit: Photo used with permission from the Children's Science Center.