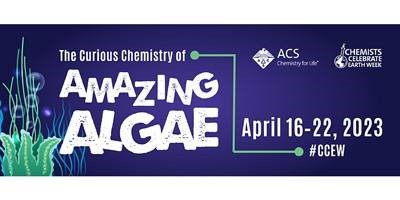 Chemists Celebrate Earth Week, CCEW, is the week of April 16-22, 2023 with the theme, "The Curious Chemistry of Amazing Algae." During CCEW,chemistry enthusiasts celebrate by coordinating events to communicate the importance of chemistry. Please let CSW know if you organize and hold events, for this important celebration.
This year again, CSW will host the local Poem Contest for ACS. Students K-12 are highly encouraged to participate in the Illustrated Poem contest. The students need to submit their poems and a separate entry form to [email protected] no later than April 30, 2023, 11:59 pm ET. Please read and follow the contest rules outlined in the flyer carefully. Incomplete entries or failure to follow the instructions will disqualify submissions. Students should not put their names on the front of the poem. They should be submitted as PDF or high-resolution JPG or PNG files.
All poem submissions will first be judged at the local level in order to be considered for the national contest. The local first-place winners will advance to the national contest, Local winners advance to the national contest for a chance to win cash prizes. ACS will award $300 to first-place and $150 to second-place national contest winners in each grade category! National contest winners will be announced in May.
You may visit https://www.acs.org/education/outreach/ccew/plan-an-event/illustrated-poem-contest.html to read more about this wonderful activity. See 2022 Winners