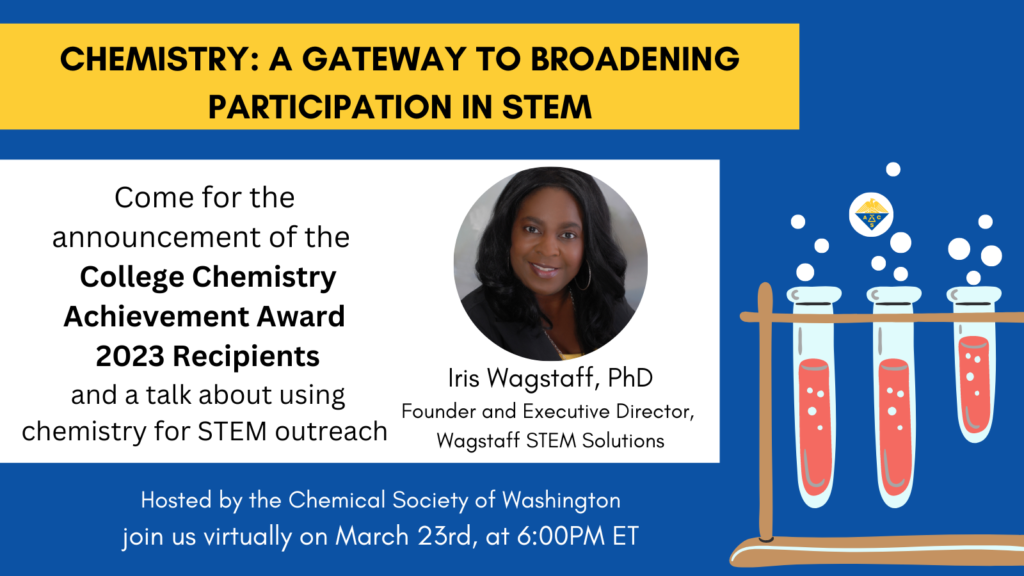 Schedule of Events
6:00-6:20 p.m. ET Presentation of the 2023 College Chemistry Achievement Awards
6:20-7:00 p.m. ET Presentation, "Using Chemistry for STEM Outreach"
Speaker Bio
Iris R. Wagstaff, PhD, is a chemist, educator, mentor, and STEM policy advisor. She is Founder and Executive Director of Wagstaff STEM Solutions – a STEM education and Diversity, Equity and Inclusion (DEI) consulting company. She has over 20 years of experience at both the K-12 and higher education levels leading STEM outreach efforts and developing informal science and chemistry programs in the community. She also has two decades of experience developing culturally relevant STEM curricula, coaching STEM teachers and faculty, and developing strategic partnerships between industry, academia, non-profits and government. She has a BS and MS in Chemistry, a PhD in science education research and policy, and has worked in all four sectors (industry, academia, government, non-profits).

She currently serves as a STEM Program Director at AAAS where she manages a portfolio of initiatives focused on broadening participation in STEM, advancing innovation at HBCUs, and supporting low-income STEM students. In this role, she is PI and C-PI on five NSF-funded grants totaling ~26$ Million Dollars. Prior to AAAS, she served as an AAAS Science and Technology Policy Fellow at the DOJ National Institute of Justice where she developed and led an agency-wide strategic diversity and inclusion initiative.

Dr. Wagstaff is also a social scientist whose research focuses on quantitative analyses to examine factors that predict motivational constructs in STEM (science self-efficacy, science identity, STEM career intent) in k-12 students. She is a native of Goldsboro, NC where she still leads middle school STEM outreach programs with her high school chemistry teacher. She serves on several advisory boards that include the National Assessment of Educational Progress (NAEP) Science Framework Steering Panel, National Organization of Black Chemists and Chemical Engineers (NOBCChE), American Chemical Society Diversity, Equity, Inclusion and Respect, and the HBCU STEM Undergraduate Success Research Center. She has received several honors that include the NOBCChE Presidential Award for Mentoring, NOBCChE Award for Excellence in Chemical Teaching, HBCU Alumni of the Year Award for Education, and the Women of Color in STEM Education Award.