By: Lauren Ragle, President-Elect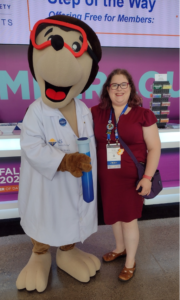 While I was interacting with various students at the meeting, for whom it was their first "national" meeting, I realized I had a few tips on things to do at the big meetings.
Search for receptions. They're usually free and involve free food. Also, usually free alcohol (beer / wine) if you're interested. A tip for the bartender can be appreciated, of course, so perhaps have a few small bills.
Pay attention to the Expo information, sometimes vendors give free lunch with their presentations in the Expo theater.
Be sure to meander around the various poster sessions (also with free small snacks and non-alcoholic beverages). Sometimes there are nervous students that you can encourage. Who knows, you might find your next collaborator or best friend! My favorite thing to ask at poster sessions: "What's your favorite part of your project?"
Check out affordable (~$30 or less, often refundable) workshops. They're bringing in some great speakers and providing some excellent training. I particularly enjoyed "Greening Up Undergraduate Labs" and "Turning Microaggressions into Microinclusions".
Get involved! Different divisions and committees put together amazing programs at these meetings. It's so hard to attend all the things!
Here's hoping you can use some of these tips in the upcoming spring meeting in New Orleans, LA (March 17-21). And students, don't forget, we do offer a student award for travel! https://capitalchemist.org/category/awards/student-travel-award/