By: Lauren Ragle, President-Elect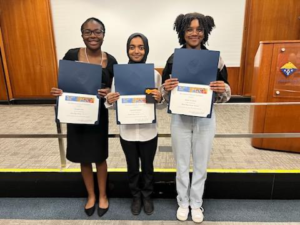 This summer has been quite busy for 18 high schoolers in our area. That's right, we have been running the Project SEED Program this summer. Allison Aldridge and I were the co-coordinators for this year's Project SEED. Once we had our 18 excellent mentors and their 13 projects approved, it was time to recruit students! We placed and settled 18 students into different types of research, from computational alterations on energy transfer processes to organometallic synthesis and characterization.
On Saturday, August 19th, all the hard work finally culminated in an amazing poster session. The students brought in friends and family for support. Not only did they share work amongst their loved ones, but they spoke with scientists from our section. They were judged to see who had the best poster with the best presentation. The winners were: Makaila Lowe (1st place), Fahamida Rahman (2nd place), and Naomi Stevenson (3rd place).
Interested in being a mentor next year? Have a high school student interested in a paid research position next summer? Reach out to Lauren at [email protected] and she'll put you on the email list for next year.