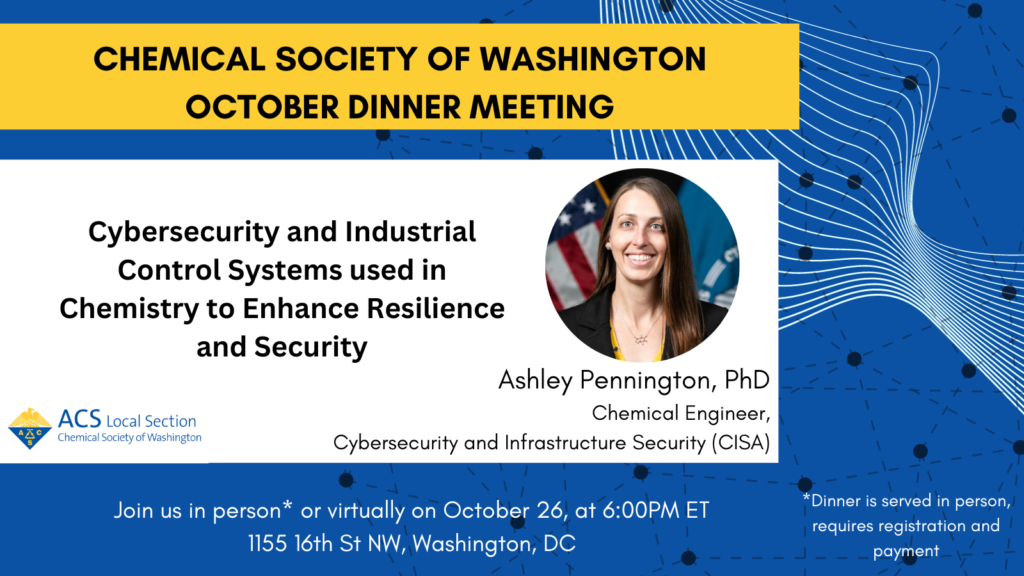 This event has concluded. You may now view the recording
Meeting Logistics
Date: Thursday, October 26, 2023
Time: 6:00 p.m. Check-in/Social Hour
6:30 p.m. Dinner
7:00 p.m. Speaker Presentation

Location: ACS Headquarters – Marvel Hall
1155 16th St., N.W., Washington, DC
Menu: Meal will be catered by VIPS Catering and will feature grilled chicken with artichokes, capers, and tomatoes, vegetarian friendly Mushroom Ravioli topped with basil marinara sauce, garden salad, dinner rolls and cookies/brownies. Beverages will be provided.
Cost: $25.00 per person ($12 for students)
An RSVP is required for dinner so we can plan appropriate seating and meals.
RSVP by noon Tuesday, October 24, to [email protected]. Please provide the names in your party as well as your contact information when you RSVP. The public is invited to attend. You may attend the talk only at no charge, but reservations are appreciated. If you need any further information or would like to make a reservation, please contact the CSW office by email at [email protected]
Zoom Link: https://american-chemical-society.zoom.com/meeting/register/tZMucOuqqj0rHNYDDXMO_SQCP3ULmkBEbCDy
Parking: Parking is available in nearby commercial parking garages. Please be aware that garage closing times vary. Parking is also available on the street after 6:30 pm, but be aware that most parking meters are in effect until 10:00 pm and may be limited to 2 hours. You should check the individual meters for details and payment methods as some are no longer coin-operated.
Metro: Blue/Orange/Silver Line: McPherson Square or Farragut West.
Red Line: Farragut North
Speaker Bio
Dr. Ashley M Pennington is a Chemical Engineer at the Department of Homeland Security's Cybersecurity and Infrastructure Security (CISA) Stakeholder Engagement Division (SED) Chemical Sector Management Team (SMT). CISA is the Chemical Sector Risk Management Agency (SRMA) for the nation. In her role, Dr. Pennington provides technical expertise and advice relating to the supply chain, physical and cybersecurity, and climate resilience of the chemical sector. Previously, Dr. Pennington was an American Association for the Advancement of Science & Technology Policy Fellow at the Department of Energy's Federal Energy Management Program where she led the integration of Fleet Electrification, Utility Partnerships, and Climate Resilience. Dr. Pennington served in the Department of Defense's Naval Research Laboratory as a National Research Council Postdoctoral Engineer where she created and analyzed efficacy of materials for chemical warfare agent degradation, pesticide remediation, sustainable fuel production, and battery technologies. Dr. Pennington earned her BS in Chemical and Biological Engineering at University of Colorado at Boulder, and her MS and PhD in Chemical and Biochemical Engineering at Rutgers University.