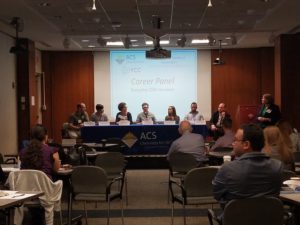 YCC and CSW hosted a career day workshop April 15th at ACS Headquarters.
The day started with three career overview presentations to give participants perspective on careers in academia, industry/consulting, and government. Next, a career panel with 7 CSW members gave thoughtful and interesting answers to audience questions, drawing from their diverse career experiences from professions such as patent law, defense contracting, teaching, research, and more. The last session of the day focused on interactive round-tables where participants could circulate between small group discussions on career skills and resources including Networking 101, ACS Career Resources, Navigating the Federal Hiring Process, and Resume Skills and Reviews.
Thank you to the 20 CSW members we had attend. Your participation and feedback will be essential to helping us plan more events like this in the future.
A BIG thanks to all our volunteers!
All of your hard work on this event was essential to its success!
Thank you to the career speakers: Steven Cummings, Richard Goodman, and Corina McClure
Thank you to the career panelists: Benjamin Holt, Daniel Seeman, Jennifer Tanir, Kim Jacoby Morris, Steven Carlo, Michael Bertocchi, Susette Ingram Bertocchi
Thank you to all career day volunteers and round table discussion leaders : Allison Aldridge, Corina McClure, Steven Cummings, Michael Bertocchi, Susette Ingram Bertocchi, Bree Taylor, Emerald Wilson, Lori Chaplin, Owen Phillips, Samantha Pilicer, Sara Orski, Wes Farrell