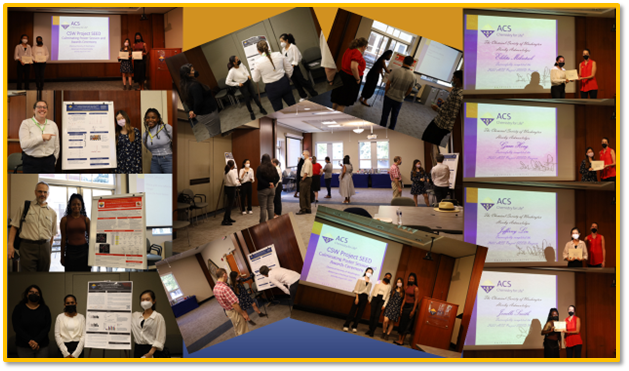 On the Morning of Saturday August 20th, the CSW Project SEED Committee hosted the Culminating Poster Session at ACS Headquarters Washington, DC to recognize our four talented Project SEED students. The SEED students presented their research posters to the 20 attendees from across the DMV. Central pictures within the collage show the poster session in action! The students conducted their research was that they conducted under dedicated mentors from three different universities in the CSW region: University of Maryland College Park, University of the District of Columbia, and The George Washington University. Each of the students were fortunate to have a graduate or undergraduate mentor in addition to their PI mentor to help guide their journey. The left side of the picture collage shows the students and their mentors, some mentors are not pictured. The caliber of research conducted by these SEED students amazed many of the attendees who commented that the poster could be mistaken for that of a graduate student, not a SEED Student who spent 9 weeks in the lab. The twenty attendees, spanning SEED family members, CSW members, those interested in hearing about research, and those interested in finding out more about the program supported our CSW SEED students!
CSW Members and CSW SEED Committee members in attendance were able to speak with students and parents about next steps in the science arena. Attending parents were very interested in learning about the SEED eligible scholarships as well as other opportunities including internships, and K12 outreach programs. A light networking lunch followed the poster session and awards ceremony (awards ceremony pictures on right side of collage) where students and family members could talk with local professionals in the chemical sciences. This event successfully broke the ice as the first in-person CSW SEED event open to all CSW members since 2019, and we are happy to continue supporting our SEED students and young scientists.
Are you interested in being a mentor for 2023? If so, please contact us at [email protected] with the title "2023 CSW SEED Mentor Interest". Professors and laboratory scientists in academia, private industry, and government are welcome to apply.