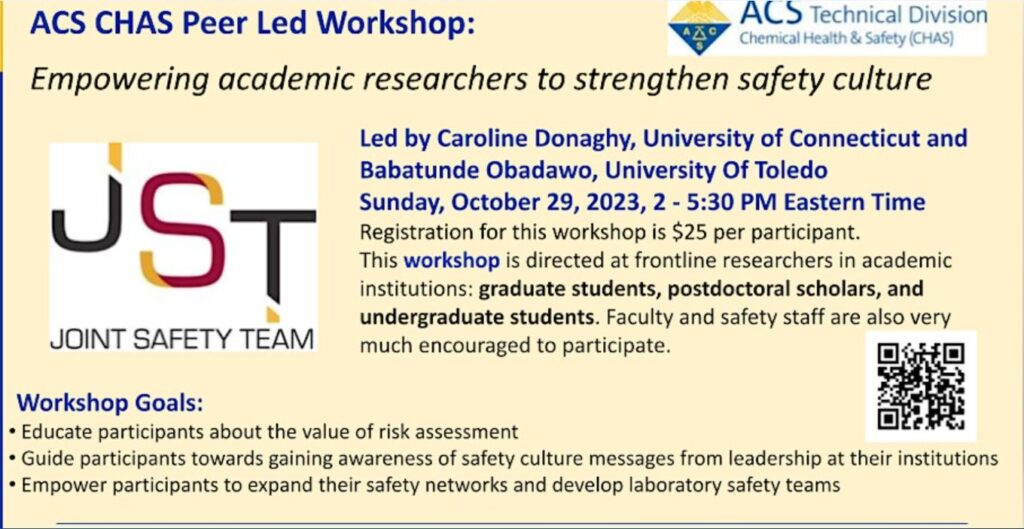 Announcing the upcoming ACS Division of Chemical Health and Safety Virtual Workshop "Empowering Academic Researchers to Strengthen Safety Culture," scheduled for Sunday, October 29, 2023, from 2:00 PM to 5:30 PM ET, via Zoom.
About the Workshop
This interactive workshop provides an opportunity for frontline researchers in academic institutions to learn more about safety culture and gain skills to be leaders in safety. The target audience is graduate students, postdocs, and undergraduates in STEM departments. Still, we also welcome faculty and safety professionals interested in supporting the development of Laboratory Safety Teams (LST) and strengthening their institution's safety culture. 
If your department has already established an LST, this workshop can also help it grow and mature as well as build connections among students across universities who are working hard to strengthen their safety culture.
Registration Details
The registration fee for this virtual workshop is only $25 per attendee. Secure your spot by registering before Friday, October 13, 2023. For more information and to register, please visit the official workshop page https://LSTWorkshopOctober2023.eventbrite.com 

Upon completion, attendees will receive a certificate of participation, a valuable addition to their resume or portfolio.
Learn More
For those interested in learning more about Laboratory Safety Teams (LST), we recommend checking out the ACS LST webpage.