Join us on Thursday, May 9th, for the Chemical Society of Washington (CSW) dinner meeting.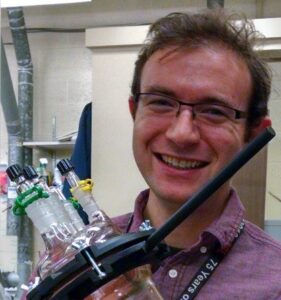 Andrew R. Davis, Ph.D., Chemist
Preservation Research and Testing Division
Library of Congress
"Chemists in a Library:
Paper Preservation at the Library of Congress"
Biography
Dr. Andrew R. Davis is a chemist and polymer scientist in Library of Congress's Preservation Research and Testing Division. He is currently focused on collections preservation by studying the fundamental degradation science of polymer-based materials, including paper, film, and modern media. His work has included research and presentations on magnetic audio tapes, repair adhesives, and the test books from the William Barrow laboratory. Andrew is also involved in work to better understand the role of light, oxygen, and the environment in the fugitive nature of materials in order to better enable public display of light-sensitive objects. Andrew received his PhD in Polymer Science and Engineering at the University of Massachusetts Amherst. Prior to the Library of Congress, he has worked in the Central Research Laboratories of 3M where he researched how photochemical processes affect polymers, adhesives, and colored materials. Andrew is actively involved in STEM outreach programs and laboratory volunteer opportunities for high school and college students.
Abstract
Just a few miles away from the American Chemical Society headquarters, the Library of Congress is home to some interesting notes of chemical history, such as Thomas Jefferson's personal chemistry library highlighting his correspondence with noted chemist Joseph Priestly. This talk will describe one of the more curious collections at the Library of Congress: the testing books of paper chemist William J. Barrow. In the mid-1900s Barrow undertook an ambitious study of 1000 books printed as far back as the 16th century, meticulously recording their chemical and physical properties. By correlating book conditions to their papers' chemical compositions after centuries of natural aging, Barrow and his laboratory offered systematic predictions of paper aging and longevity which have received both accolades and criticism.
These test books now reside with the Library's Preservation Research and Testing Division, and their past and future influence on the chemistry of paper preservation will also be discussed. Recent work from the labs at the Library of Congress has revisited the historic Barrow Books Collection to investigate how size-exclusion chromatography and other modern analytical tools can be used to complement Barrow's existing conservation data and analyses. Some of these methods provide better correlation between chemical and physical properties than Barrow's initial measurement, and we continue to evaluate what new things we can learn when revisiting the collection. Additionally, learnings from these studies are now starting to be applied to a new study of book chemistry at the Library, funded by the Mellon Foundation, nearly as ambitious as Barrow's historic survey.
Meeting Logistics
Date: Thursday, May 9, 2019
Time: 6:00 p.m. Check-in/Social Hour
            6:30 p.m. Dinner
            7:00 p.m. Presentation
Location: ACS Headquarters – Marvel Hall
                   1155 16th St., N.W., Washington, DC
Menu: Meal will be catered by Menus Catering and will feature Seafood & Chicken Paella (gluten free) — Spanish rice, shrimp, cod, chicken, red peppers, peas, tomato, onion  Vegetarian Option: Lemongrass tofu over soba noodles — roasted mushrooms, spinach, edamame, orange, ginger soy, grapefruit, and sesame seeds  Sides: Mixed Green Salad and bread/butter
Dessert: Macaroons – vanilla, pistachio, and raspberry.
Assorted beverages will be provided.
Cost: $20 (Members and guests) / $10 (Students and High School Teachers)
RSVP by noon Tuesday, May 7, to [email protected] (preferred) or by phone (messages only: 202.659.2650). Please provide the names in your party when you RSVP, and your preference for the meat or vegetarian option. The public is invited to attend. You may attend the talk only, but reservations are appreciated. If you need any further information or would like to make a reservation, please contact the CSW office by email at [email protected] or by voicemail at 202.659.2650.
Parking: Parking is available in nearby commercial parking garages. Please be aware that garage closing times vary. Parking is also available on the street after 6:30 pm, but be aware that most parking meters are in effect until 10:00 pm and may be limited to 2 hours. You should check the individual meters for details and payment methods as some are no longer coin-operated.
Metro: Blue/Orange/Silver Line: McPherson Square or Farragut West.
Red Line: Farragut North